Our Team
Alf Anderson was a founder of Wanganui Furniture Manufacturing Co. in 1916 and his grandsons John and Geoff Anderson continue to run the business, which is now trading as Wanganui Furnishers. Sally Anderson, Geoffs wife, manages the admin team, and Alfs great-grandchildren Sam and Sarah Anderson also work in the company. We are a very proud family run, and local Wanganui business!
Combined, our whole team has worked with us for over 230 years, so we have a wealth of knowledge and experience when it comes to furnishing, styling and decorating your home.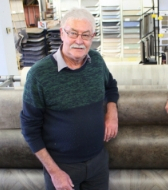 Geoff
Flooring Department
Geoff runs our flooring department on St Hill Street and has over 40 years of experience in the flooring industry so he has the knowledge to help you decide which product, colour and style will best suit your home. We also have 3 exceptional installers who have over 65 years combined experience, so you can be sure the finished job will look great.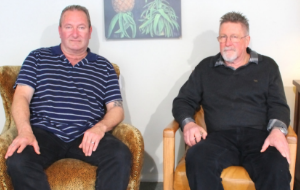 Shaun and John
Furniture Department
You'll find Shaun and John in our furniture department with our beautiful products. John has been in the furniture department for over 40 years, and he has a knack for bringing in unique and interesting items. Shaun is back for his 3rd stint with us, first starting in 1979, and is very knowledgeable about our furniture, beds and decor products.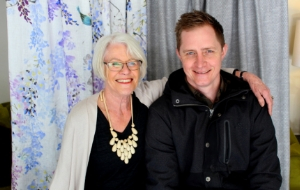 Barbara and Sam
Curtains & Blinds Department
Sam and Barbara run our curtains and blinds department. Barbara has been with us for over 30 years and she is brilliant working with different fabrics and colour schemes. Sam does our measures and installations, and he's often in the showroom to talk about the best styles for your home.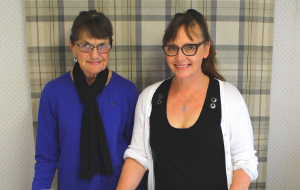 Margaret and Kelly
Sewing Team
Margaret and Kelly are our expert sewers, ready to create beautiful custom made curtains, roman blinds, cushions...the list goes on. If you are looking for a high quality bespoke and unique item, these two will be able to work their magic and create what you need. Margaret and Kelly are based in our on-site sewing room above the main showroom.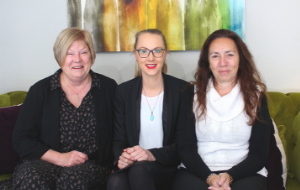 Sally, Sarah and Glenda
Admin Team
Sally has been managing the office for over 20 years. Glenda joined our team in 2018 and you'll find her in our main office.
Recent News
Today, Tuesday 19 March 2019, marks 31 years since we closed our Wanganui East store at 91-93 Duncan Street, which was fondly known as 'The Factory'. This site is where Wanganui Furniture Manufacturing Co. (the original name for Wanganui Furnishers) began business as a furniture factory and showroom in 1916. It remained a part of Wanganui Furnishers for 72 years, and the site had some major transformations in that time.

Posted: Tuesday 19 March 2019

When winter arrives, often all we do is turn on the heaters, with an estimated 30% of NZs household energy being used on heating, according to Sustainable Living. Often a lot of that heat is lost through the ceiling, windows and doors, and many of us don't think about how we can stop the heat escaping, instead continuing to pay hefty heating bills to stay comfortable. If you're looking for a better way to keep your home warm and save on your heating bill, read on!

Posted: Thursday 7 March 2019